This is also called "semi-incision and semi-stitching," which, as its name suggests, integrates the persistent effects of cutting the double eyelid and the absence of a scar from the double eyelid stitching. It only requires the creation of 3 approximately 2-mm incisions at the eyelid and then embedding the sutures for fixating the eyelids in the wound via a microsurgery. Its advantage is dispersed incisions, which are less likely to cause a linear scar and are less invasive to tissues than the half-incision method; therefore, postoperative recovery is as quick as non-incisional eyelid stitching procedure. Moreover, because the techniques are relatively dedicated and cause less trauma, the results are typically rapidly seen and appear natural. This method does not suit patients already having eyebrow compression to the eye or those desiring profound and distinct double eyelids. In addition, it is difficult to conduct simultaneous orbital fat removal and to correct asymmetrical eyes caused by levator muscle weakness. Therefore, the results differ according to the individual's eyelid conditions.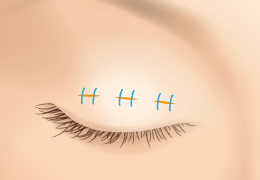 Surgical conditions
Type of anesthesia: IV sedation + local anesthesia
Surgical incision: 3 incisions at the eyelid, each approximately 2 mm
Recovery: 5–7 days
Removal of stitches: 7 days
General instructions
No food and water on the day of surgery
Avoid smoking, alcohol, and irritating foods for 1 month postoperatively.
Apply a warm pack for 3 months postoperatively for the eyelid swelling to subside.
Ideal candidates
Young patients with thin eyelids
Patients unable to accept an linear eyelid scar but still demanding persistent results
Those pursuing double eyelids that rapidly recover and look natural
Those still not showing eyebrow compression or eye tail sagging
Those having double eyelids and in no need of orbital fat management
Those having concerns about the durability of the purely double eyelid stitching procedure
Potential complications
Eyelid asymmetry
Premature loosening of the eyelid folds
Eyelid eyelid chronic edema
Incisions are small and dispersed, which is are less likely to leave a visible scar.

It takes a shorter time for the swelling to subside (approximately 5–7 days).

The depth of the eye folds is adjustable, which helps attains easier natural results similar to that of congenital double eyelids.

It remedies the drawbacks of the traditional full-incision double eyelid surgery that leaves scars and the double eyelid stitching surgery that is prone to becoming loose.

The postoperative asymmetry is adjusted at a single incision.
The surgical rResults may appear too natural, so it does not suit patients already having double eyelids.

It is unsuitable for patients with ptosis or thick eyelids.

It is difficult to conduct fat removal to correct puffy eyes or sagging eyelids.

The pPersistence of results may become shorter due to the individual conditions of eyebrow sagging.

It is unable to simultaneously correct congenital asymmetrical eyes due to levator palpebrae muscle weakness.
Possible procedures in conjunction
Comparison Of Mini-Invasive Double Eyelid Surgeries
| | Half-incision method | Triple micro-incision method |
| --- | --- | --- |
| Ideal candidates | Patients with distinct orbital fat or downward compression of thick double eyelids | Patients with thin eyelids but desiring natural results |
| Surgical incision | Approximately 1–1.5 cm at the center of the eyelid | Three small incisions, each approximately 2 mm, on the eyelid |
| Orbital fat removal | Easy | Difficult |
| Concurrent medial canthoplasty | Yes | Yes |
| Levator muscle correction | Yes | No |
| Asymmetrical eyelid correction | Yes | No |
| Socket fat graft | Yes | No |
| Recovery or swelling subsidence | Relatively slow (over 7 days) | Rapid (5–7 days) |
| Postoperative scarring | Probable | Almost disappears |
| Durability | Persistent | Differs along with individual conditions |
| Results | Profound | Natural |
| Eyelid micro-adjustment | Yes | Yes |