Plastic surgery is also a fashion art!
WiSH Clinic towers over common commercial esthetic and plastic surgery institutions. This is because of the fact that it is a plastic surgery gallery with esthetics and life and it overflows with a transcendent modern artistic ambience, which not only displays the esthetic cultivation of the clinic owner but also demonstrates the extraordinary taste of our visitors. In 2015, under the leadership of Dr. Chuang, we overcame all difficulties to relocate our 8-year-old premises to the avenue at Eastern district of Taipei so that we could unleash our passion in a broader environment. We have advanced our software and hardware capacity to a new peak and are moving toward our objective of being an international first-class medical institute. We sincerely hope that you feel our devotion to life esthetics the moment you set foot in our clinic!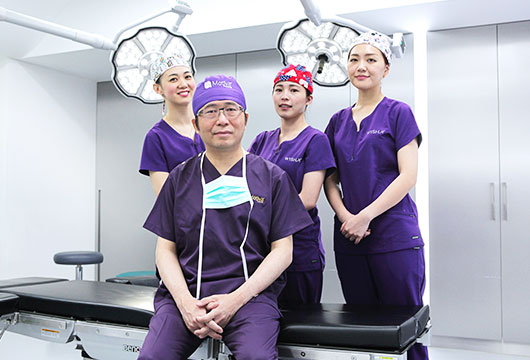 One-station comprehensive plastic surgery service
Just as a famous chef masters cooking more than one dish, a professional plastic surgeon excels in more than one surgery too. Dedicated to plastic surgery, Dr. Chuang has been relentlessly studying different kinds of surgeries and frequently visits Korea, Japan, and European countries to study from and exchange experience with top plastic surgeons worldwide. For any facial plastic surgery, facial bone contouring, face lift, breast augmentation, and body sculpting, he has expertise and experience to offer a customized reshaping plan, which not only saves patients from the painstaking time previously paid to seek treatments at different places but also harmonizes the surgical results. Moreover, regardless of the surgical complexity, Dr. Chuang carefully completes every step and personally attends to all procedures from taking photos preoperatively to the final stitching. Such an attitude for accuracy and perfection ensures complete responsibility for patients' surgeries and provides the most reliable security guarantee, thus materializing the service concept of "one physician is in charge of the whole surgery and assumes complete responsibilities." Therefore, every patient at our clinic will enjoy the exquisite technique and ardor of Dr. Chuang and entrust Dr. Chuang to make a beautiful appearance for them!
Integration of modern art and medical esthetics
The interior design of WiSH clinic is a representation of Dr. Chuang's artistic taste and is an extension of his life and work. His unique esthetic concept is applied not only in human operations but also in the clinic environment, furniture, and art work, which also make a bold experimental integration of medical care and art. Dr. Chuang considers himself to be a sculptor for human plastic surgery and practitioner of life art, so improving the esthetics of the working environment is also a force driving him to advance human body esthetic engineering. Owing to such an aspiration for perfection and distinctiveness, Dr. Chuang entrusted Nic Lee, one of the top domestic designers, with the initial design and planning of the new clinic and communicated revisions of the designs over 100 times. Simplicity is the everlasting modern style and so is his surgical expertise, which does not necessitate excessive decoration and only aims for perfect proportion, thus blazing a new path for medical institutes. Dr. Chuang also hopes that every client of WiSH Clinic feels free in this artistic space built over the past year with our enormous passion, which makes you feel as if you roaming in an art gallery. We sincerely invite you to experience the unique esthetic and creative atmosphere in WiSH clinic!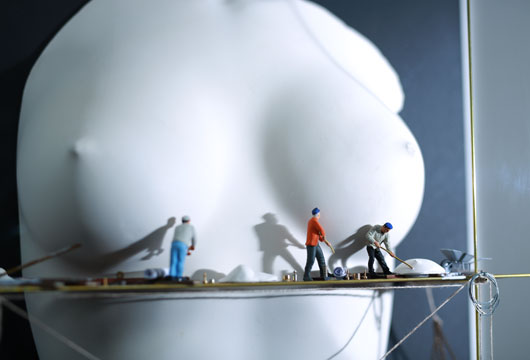 Safety guarantee from sophisticated medical devices
Safety should never be compromised. Therefore, for professional medical hardware, Dr. Chuang invests much to install sophisticated devices such as positive pressure sterile operation rooms able to effectively lower infection rates, LED surgical lights able to illuminate surgical field deeper, the newest general anesthesia machines, an advanced high-resolution HD endoscopic system, the operation room audio–video integrated systems that accommodates a physiological monitor and an X-ray presentation system, and a central oxygen supply system, which all surpass the facilities in numerous domestic and foreign clinics, even hospitals. Moreover, we enormously invest in devices for postoperative observation and caring, such as high-standard LED examination lights, fully automatic electric exam chairs, and cosmetic and massage beds, which have all imported from Germany and Europe. Such advanced hardware combined with a superb medical environment not only guarantees the surgical safety of patients at WiSH Clinic but also enhances our confidence on creating the desired surgical results.
We have sophisticated devices and instruments.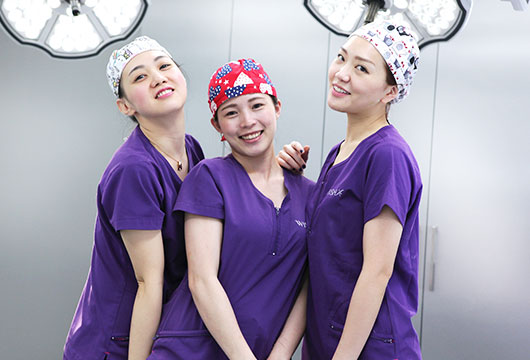 A superb environment facilitates happy work
Dr. Chuang believes that a good working environment creates happy workers and that can clients be satisfied only with happy workers. Therefore, the spatial allocation and planning of the clinic have taken into full consideration the characteristics of each team, and particular attention has been given to spatial requirements for activities, such as a large video conference room for meetings of healthcare professionals, offices for paper work, and an employee canteen allowing our colleagues to relieve their pressure between busy work hours. Moreover, we take special measures to enhance privacy protection and divide the clinic into a consultation area, an operation area, and a follow-up visit area in light of the line of motion. Each area is designed based on multiple independent compartments and is separated in terms of allotment of duty. Besides being able to unleash the maximal work efficiency of employees, such a design offers patients an optimal private space and enjoyment of our service without any senseless interference.
Provision of complete information makes patients more confident
The provision of sufficient information on plastic surgery is the obligation of physicians and is also highly emphasized by Dr. Chuang. Therefore, we redesigned the original detailed webpage. The contents were composed by Dr. Chuang himself, and the numerous surgeries have been reclassified and categorized to let readers understand the surgeries in a more rapid way. Besides the complete and professional information, we invited econsult, the top domestic webpage-designing company, to optimize our website and clearly and convincingly convey to consumers the various information in a prospective concept-based design, which makes the originally unfamiliar surgeries more vivid, more popular, and life-oriented. Apart from updates on surgery contents, we also apply the one-station service concept to online appointments and consultations to allow you to have a real-time knowledge of our surgical methods, schedules, and down payments . We sincerely hope that this multifunctional website draws us closer and makes our communication smoother!