Besides fostering an elegant environment and providing sophisticated devices to safeguard customers' benefits, WiSH Clinic endeavors to enhance various services to boost the satisfaction of clients. After repeated and detailed planning, Dr. Chuang and our team members offer services seldom provided in numerous private clinics, including a Cloud consultation software and multimedia platform, a complete photo management and storage system, a public display of operation prostheses, operation instructions and the informed consent form in Chinese and English, a postoperative medical carry-on kit, VIP inpatient care, a safe escort mechanism, and international airport pickup and drop-off services, to satisfy the requirements of modern customers for plastic surgeries. We expect that our unremitting endeavors will make the treatment more diversified and safe so that you or your friends can undergo any treatment or operation at our clinic without concerns but purely enjoy the experience.
Cloud consultation software and multimedia platform
To enable new customers to rapidly understand various surgeries and services and accommodate patients' privacy, we constructed a Cloud consultation software and multimedia platform integrating online surfing, outpatient consultation, and a photo display to allow you to leisurely listen to the introductions of consultants in the independent consultation room, read on the successful cases in our clinic, or search for further surgical information or patients undergoing plastic surgery on the Internet. This not only helps patients to establish realistic expectations and objectives but also facilitates the physician to understand specific requirements individually to lay a solid foundation for future surgery.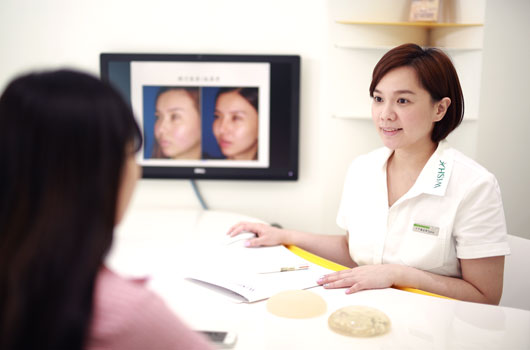 Instant photo management and complete storage system
Preoperative and postoperative photos of patients are part of the medical history archive. They are very important private assets and should be well preserved well by the clinic. Therefore, transmitting, recording, and preserving photo archives are very informative projects we highlight. To achieve the objective of rapid storage without any loss of photos, Dr. Chuang introduced the supreme cloud photo storage and management system, which possesses a powerful Bluetooth transmission function and transmits and archives patients' preoperative and postoperative photos during each period in a real-time manner. This system not only makes a stable backup and ensures the storage of surgical photos in the cloud disk but also retrieves many photograph records from the computer to allow the physician and patient to review comparative results between and after the operation at any time.
Certificate of prothesis by the manufacture
Plastic surgeries often make use of various implants and prostheses to attain perfect results, and such implants are mostly made of materials that can be permanently used, so the quality of the prostheses is critical for the stability and durability of the results. WiSH Clinic only utilizes legal implants approved by Taiwanese health authorities (TFDA) and displays all the implants in public so that patients can have an advanced knowledge about the materials and textures of the prosthesis, and about the properties and scope of the applications of operation materials. Patients in WiSH Clinic can also feel the real difference between various prostheses by touch to help them determine and select the appropriate type and material of implants, thus making them feel assured for a lifttime.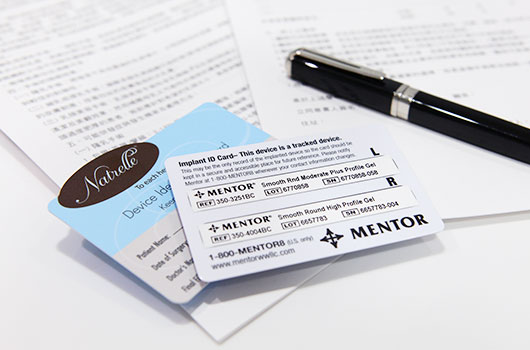 Public display of surgical materials
Plastic surgery normally utilizes various different kinds of implants and prosthesis to form the most perfect result. Most of these implants are made of materials that last permanently, thus the quality of the implant is key to stable lasting. At WiSH Clinic, we use implants that are legally approved. We openly display our selection of implants in the clinic in order for patients to fully familiarize and compare the different types by seeing and touching and make the best choice of implants and be satisfied for life.
Surgical instructions and informed consent form in Chinese and English
Full preoperative instructions and explanations are not only the first step to ensure the rights and benefits of the physician and patient but also the foundation to lower medical disputes. Therefore, at WiSH clinic, we have prepared the preoperative instructions, informed consent form to undergo the operation, and postoperative instructions for various plastic surgeries, which would be elaborated by the physician or nurse before you sign. The version of all instructions conforms to the official plastic surgery consent and instruction model published by the Health and Human Services Department and thus provides an accurate written guarantee for patients. Moreover, for foreign patients, we provide English versions of operation instructions and consent so that they can enjoy the same benefits and guarantee as domestic patients. Patients can freely choose these papers in either Chinese or English.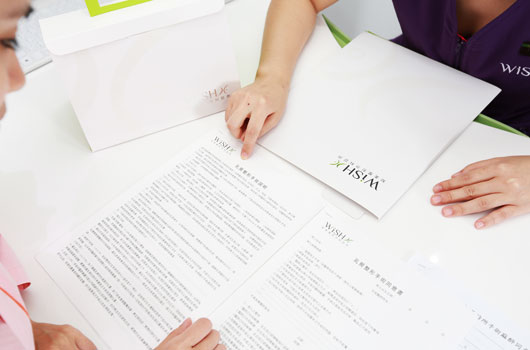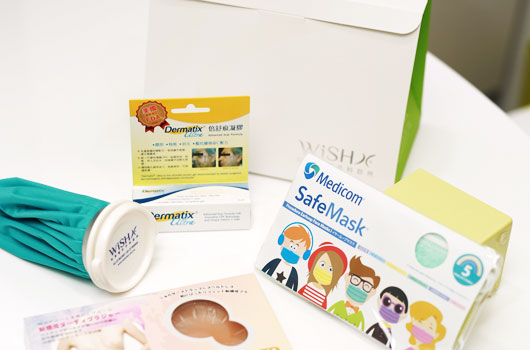 Postoperative medical carry-on kit
Plastic surgeries come in diverse options, and postoperative medications and medical supplies needed are also quite different. To enable patients to obtain the most appropriate postoperative care, besides systemic drug and dressing backup, we prepare specific postoperative medical carry-on kits for patients, which comprise postoperative instructions, medical prescriptions, oral medications, topical ointments, dressing material, icy and warm packs, and anti-scar tapes, so that you can rely on the kit to easily complete household wound caring. This not only improves the quality and convenience of self-care but also effectively prevents wound problems incurred by inappropriate care, thus ensuring the success of the operation.
VIP inpatient care
Along with the progress of plastic surgery and anesthesia, indications for postoperative hospitalization have remarkably declined. However, for some patients undergoing extensive reconstruction or multiple plastic surgeries, postoperative hospitalization and observation are still necessary. Therefore, Dr. Chuang sets up a VIP single observation ward equipped with independent lavatories, an oxygen supply, and physiological monitors, as well as audio–video facilities for visiting family members. During hospitalization, each patient will be taken care of by a special nurse who administers medications when necessary and records recovery conditions. Our anesthetist, Dr. Chen, can also provide pain control therapy as patient requests, thus relieving post-operative pain and accelerating recovery physically and psychologically.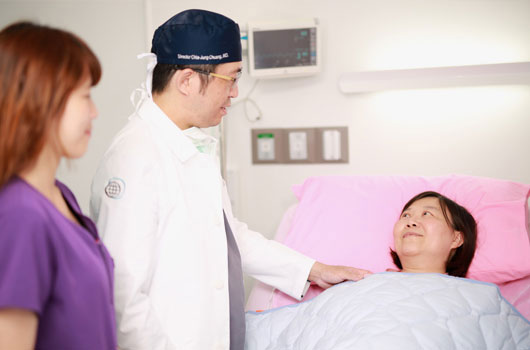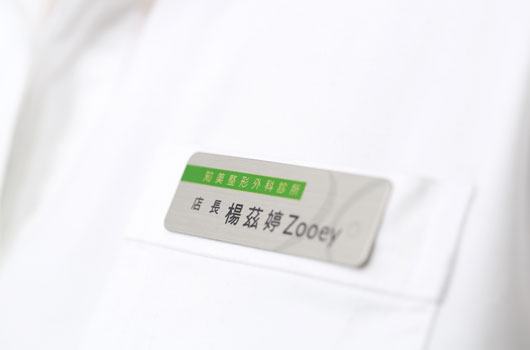 Safe escort operation
Recovery from plastic surgery and anesthesia commonly differs according to individual constitutions and hepatorenal functions; in particular, patients undergoing general anesthesia require a longer duration of hospitalized observation and return home only after physiological functions become normal. For a minority of patients with a particular sensitive condition or an excessively slow metabolism of anesthesia drugs and discharged in the deep night without a family member present, our caregivers will call a taxi for you, or dispatch a special nurse to escort you to your residence; this person not only provides necessary assistance during the journey but also ensures your safety. Moreover, concerning patients who come from faraway places and are unable to go home on the same day, we will help you book a reservation in a hotel near the clinic and assist you in checking-in to alleviate your fatigue from the long journey.
Airport pickup and drop-off services
Foreign clients are always our VIPs. To help patients coming to Taiwan for the first time in the transportation from and to airports and to express our sincere welcome, we provide a VIP special car service at a minimal charge to accompany you to the hotel or clinic, saving you the trouble of transportation from the airport. In case of any requirement, you can call us directly or request an airport pickup and drop-off service, and we will dispatch a special representative to contact you.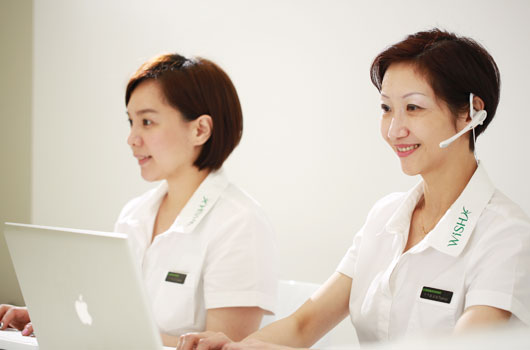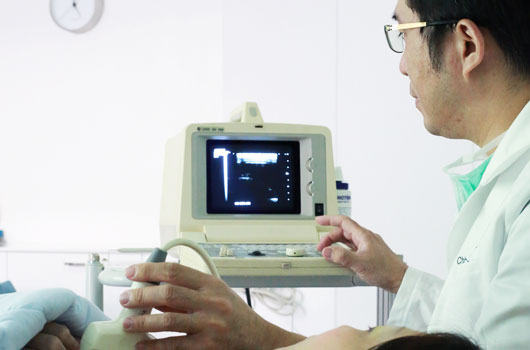 Lifelong free follow-up visits
Our pursuit for beauty never ends, but the objective in different life periods differs, so plastic surgery can be a construction for the whole life but also entails lifetime services. However, a majority of plastic surgeries have limitations and limited durabilities, and their results may wear off with time, so postoperative follow-up and supportive care should not to be neglected. Considering the requirements of most patients, Dr. Chuang provides lifelong free follow-up visits for postoperative patients if necessary. Regardless of the complexity of the surgery, as long as you have any questions, you are welcome to call us to make an inquiry or appointment, and we will have a specialist arrange your visits as soon as possible.