Radiesse is composed of calcium hydroxylapatite microspheres and is a biocompatible soft ceramic. It has been used as a filler in orthodontics and orthopedics (also called bone powder) for long, and its safety and reliability have been validated in long-term clinical trials. In recent years, Radiesse particles have been further shrunk by manufacturers for injection into the superficial skin layer; therefore, their use has been expanded to micro-plastic surgeries. Despite similarity to hyaluronic acids as subcutaneous injection fillers, Radiesse has a more compact molecular arrangement, which provides a better skin buttress and sculpting and renders more stereoscopic results if injected during rhinoplasty to the jaw or submalar triangle. In addition, it is less likely to be absorbed than hyaluronic acids, which not only stimulates the proliferation of subcutaneous collagen to reinforce the skin but also sustains long-term results (6 months to a year on average). For its drawbacks, Radiesse feels harder than hyaluronic acids, and despite properties of it being easy to sculpt and persistent results, it is only applied for the contour sculpting of facial hard bones (such as the nasal bridge or jaw) and cannot be extensively used for filling the skin or soft tissue depressions (such as the temples or cheeks) like hyaluronic acids; otherwise, sequelae such as subcutaneous lump or nodules will occur. Moreover, Radiesse is not as lucent as hyaluronic acids but appears in a white semi-solid state, so it should not be injected into thin-skinned sites such as the lips or nasal bridge after rhinoplasty; otherwise, it will cause skin whiteness or redness, thus compromising the degree of patient satisfaction.
Radiesse, which is easy to sculpt and fixate, has become an alternative for patients unwilling to undergo rhinoplasty or jaw plastic surgeries; therefore, it is also called as injectable implants. If injected in a proper way by the physician, results similar to those obtained by surgeries can be obtained by injecting Radiesse; therefore, it has partially replaced hyaluronic acids. Besides, many patients prefer the injection of Radiesse for preoperative simulation and self-evaluation to lower the expectation gap on the postoperative results.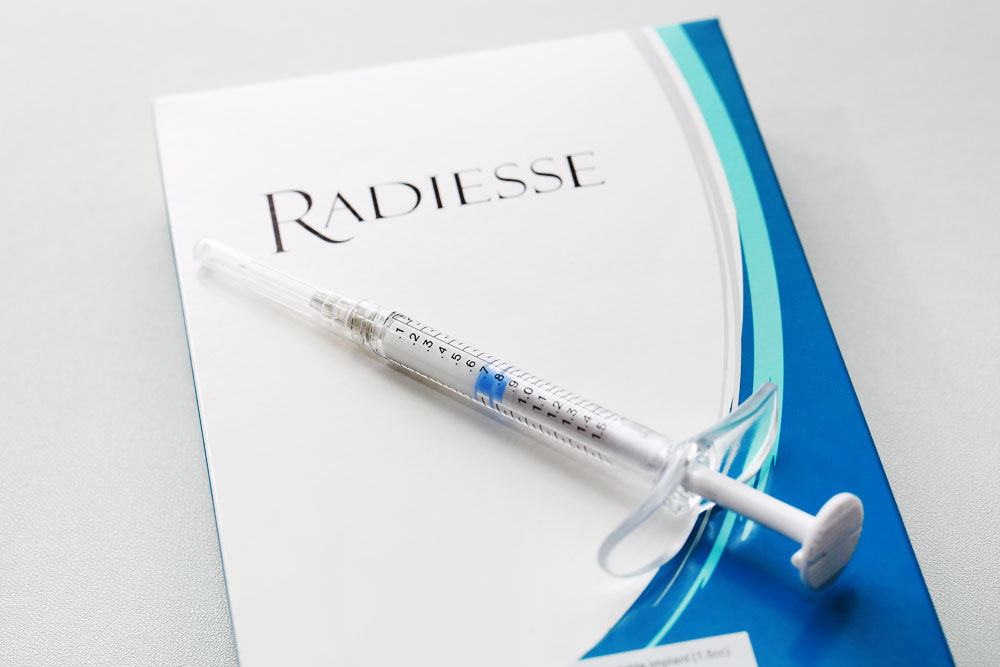 Radiesse remains to be the best injectable filler for face contour sculpture or solid structuring.
Avoid the injection along with other medicines to avoid rejection or infection.
Avoid injections into the sites of prosthesis or nasal tips, which cause poor skin circulation or necrosis.
It is contraindicated for patients with acute or infectious skin diseases at the affected area or immune disorders.
In case of redness or swelling after injection, do not press the affected site to prevent drug spreading or even inflammation.
Site of injection
Sculpting of face contour (rhinoplasty, jaw plastics, eyebrow bone plastics)
Filling of cheek bone depression
Potential Complications
Skin redness and white skin masses
Skin infection