Before I begin my lengthy post about the surgery I did at WishClinic Taipei, I guess you all be more interested to take a look at the result of my before and after photos first. Please take note that the "after" photo is taken two weeksafter the surgery so my face and nose are still swelling , they are not the final result yet.
Why am I going for Rhinoplasty revision (nose surgery)?
My last nose revision was done in a "premium" plastic surgery clinic in Singapore around 3 years back , however the mediocre result was not to my satisfactory. I expected to achieve a longer nose with a much more define nose tip that can push down my ugly nostrils that are facing frontward. It was quite disappointing that there were no much difference made to my nose before and after surgery. Imagine going through the downtime and hefty cost all for nothing. The plastic surgeon from Singapore (which I don't wish to name here) however was very pleased with his work and insisted that he had gave me a very NATURAL result, which he thought is what I wanted. Come on lah, if I want a NATURAL nose, then for what I want to do my nose ?! I would just stick to my old nose if I want my nose to be natural right?! The nose surgery I did with that doctor did not really solve my nostrils problem too. I feel that my tip was a bit upturned , exposing more of my nostrils which totally don't look good in photos.
So this time I seeked another opinion from Dr Chuang, a renowned plastic surgeon from WishClinic, Taipei . A rhinoplasty revision is much more complicated than a primary rhinoplasty and riskier due to higher chance of infection. It requires a experienced surgeon who has a sophisticated understanding of the nose structural and surgery technique. After a thorough consultation with Dr Chuang, he was very quick to understand exactly what I want and knew that only an "open rhinoplasty" can give me my desired result. Open rhinoplasty is recommended for patients who want significant changes to the nose tip. I don't expect to achieve a super dramatic high or sharp nose bridge like an angmoh's. All I wanted is just to narrow my nose tip and reduce the exposure of my nostrils, so as to achieve an improvement on my overall facial balance that's all.
This was the result two week after my rhinoplasty revision with Dr Chuang, WishClinic Taipei. He has totally solved my upturned nostrils issue and gave me a much more defined tip. I love how my nose slowly "evolved" beautifully during the recovery period. And yes my nostrils are showing lesser now.
(scroll below for more details and photos later)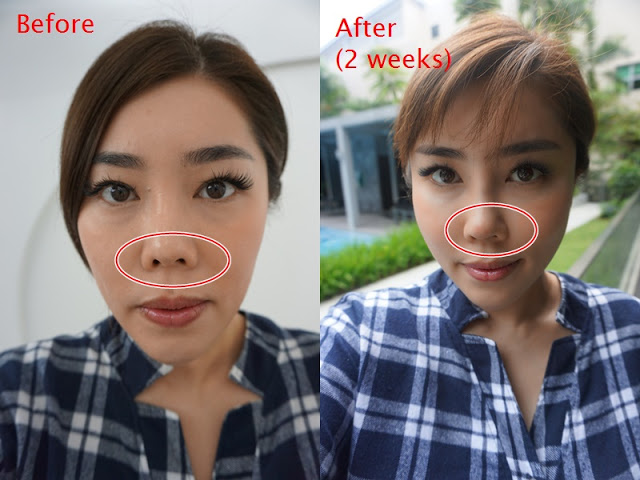 Fat-grafting (Fat transfer) to Face
Fat transfer (also known as fat grafting) is a process that involves harvesting fat cells from other parts of the body and injecting them back to your face to rejuvenate or permanently restore facial volume. After my drastic weight loss ,my lack of facial fat gives way to loose and saggy skin. My face then appears gaunt and seemingly hollow especially at my lower cheeks. Many aesthetic doctors have recommended injecting fillers to my entire face to "pump" up the lost of volume. Instead of fillers, I would prefer the use of my own fats because the results feel softer and smoother,  no risk of allergic reaction or rejection by your body, and the results are much lasting .
Below is the result , two weeks after my fat-grafting to the face. Dr Chuang did a great job using fat transfer to restore a youthful vibrancy to my face, making me looked much more refreshed and also defines my facial features as well. This is probably one of my favorite surgery result .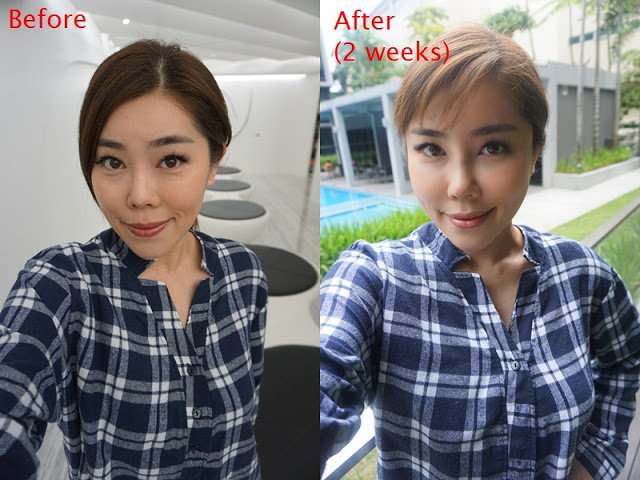 Fat-grafting (Fat transfer) to Breasts
The beauty of this procedure, is that it offers the opportunity to enhance the breasts and removes unwanted fat from other areas at the same time. After going through two times breastfeeding from my previous two childbirths, it was obvious that my assets weren't as perky as before. In fact they were a little lopsided as my boys only favor the right side haha. Yes, for some reasons, they only latched on to my right one . So not only my boobs came down to a flat B, they were also in different size due to both breastfeeding and weight lost.
Fats transfer to breasts uses our own body's tissues so there's lower chance of infection and rejection and the result looks much softer and natural.
Fat-grafting to breasts does wonders to lift and reshape the breasts, just by increasing the volume. However only an experienced surgeon can perform this fat grafting successfully . This is because they need to maximize the survival rate of fats transfer and also to have careful attention to detail, so as to achieve the desired shape.
(two weeks result, increase in cup size and much more "lifted")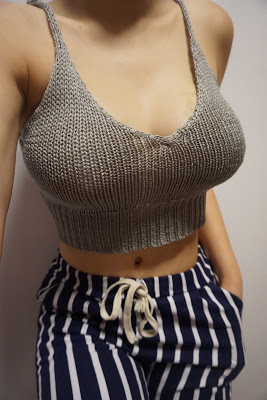 DR CHUANG from WISHCLINIC TAIPEI
I've chosen Dr Chuang because one of my friends did her surgery with him and she was very satisfied with her result. Therefore she highly recommends me to seek his advice. I had my first consultation with Dr Chuang through email and the reply was pretty prompt. I was so glad that he is well-versed in English and able to fully explain to me fully in detail about my areas of concern. He sounds very professional and he shares the same views on the kind of result i wish to achieve.
WishClinic is located at the buzzing business district, east of Taipei city, adjacent to ZhongXiao east road, at the 6th floor of this distinctive building.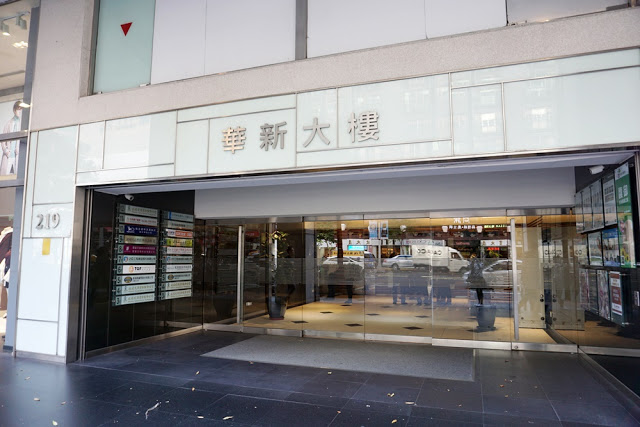 The all-white interior of 
WishClinic
 gives the place a very elegant, bright, clean and spacious look . Dr Chuang is the only doctor in this clinic and he sees only a handful of patients a day, strictly by appointment only. This is so he can dedicate enough time and attention to his patients.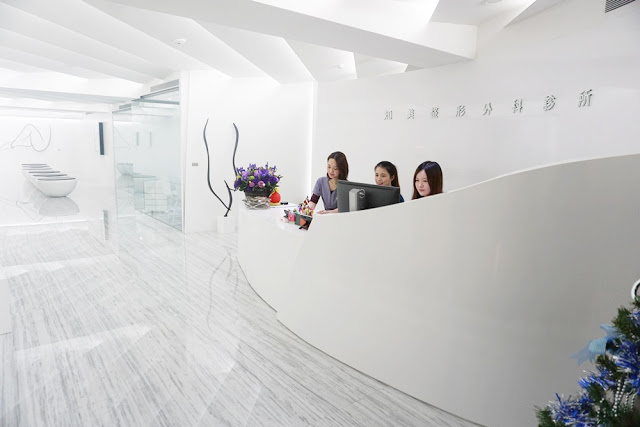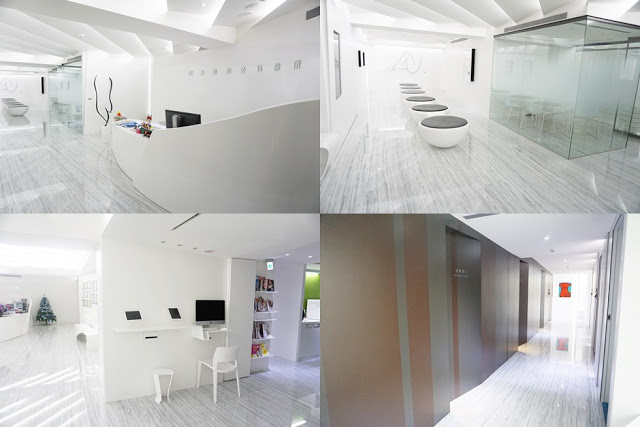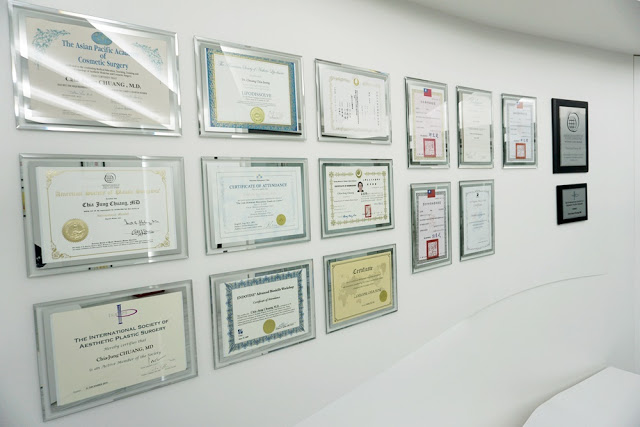 This is how neat and tidy a perfectionist's office is.


The filming begins early in the morning before the surgery begins.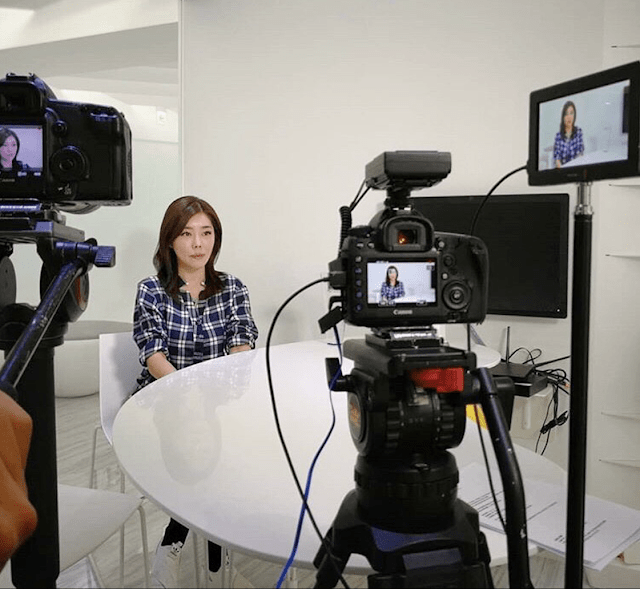 After Surgery
DAY ONE
After the surgery, with the markings still on my face. The most obvious change is the effects of my fat-graft especially on my forehead. There's not so much of pain, only the slight discomfort coming from the heavy stuffy nose and flowing mucus. Nose is still red and swollen to see any drastic difference yet, but I'm pretty satisfied with shape of my bridge. Dr Chuang took note that I prefer a more korean S curve bridge to a straight bridge and gave me exactly what I've requested for.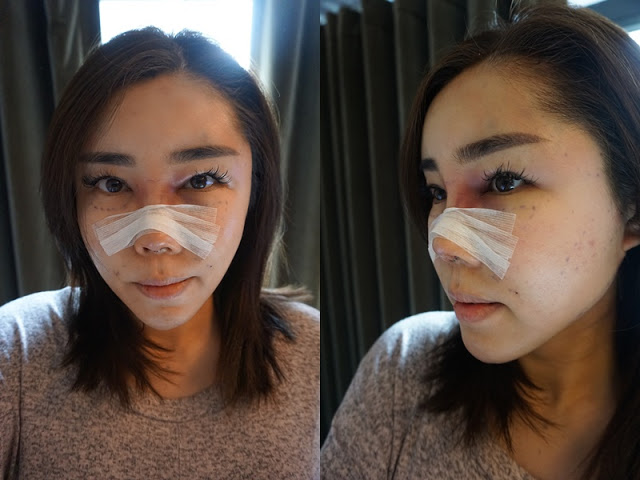 DAY TWO
Swelling increases during day 2 onwards. My left eye looks more swollen than my right because of my sleeping position. I'm a "side sleeper" and yes after rhinoplasty, you're suppose to be sleeping on on your back and propped your head up with on elevated pillow. However that morning I woke up sleeping from my left side, which caused most of the swelling to go to my left…zzz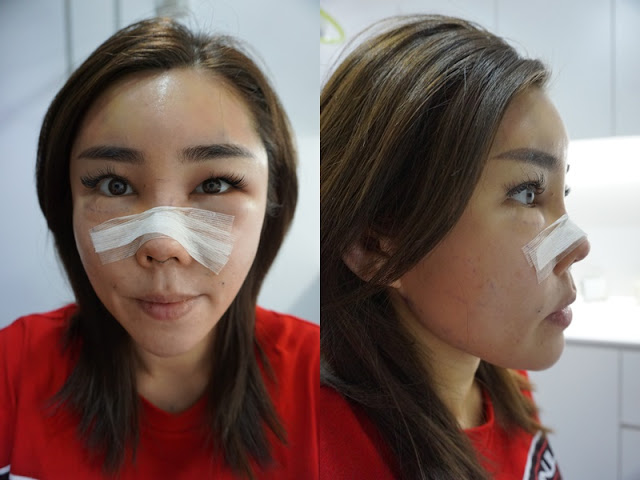 WishClinic offers their patients this yellow light therapy, which helps in reducing swelling and bruises, speeding up the healing. As I was staying at a hotel just 5 minutes walk away, I came down almost everyday for this half hour treatment.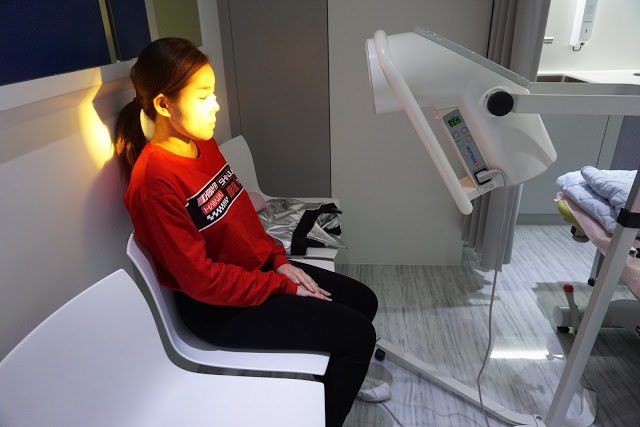 DAY THREE
I couldn't stand not being able to wash my hair for the last 3 days (need to keep the wound dry), so today I went to a nearby hair salon and had a wonderful hairwash. Makes me feel so much refreshed.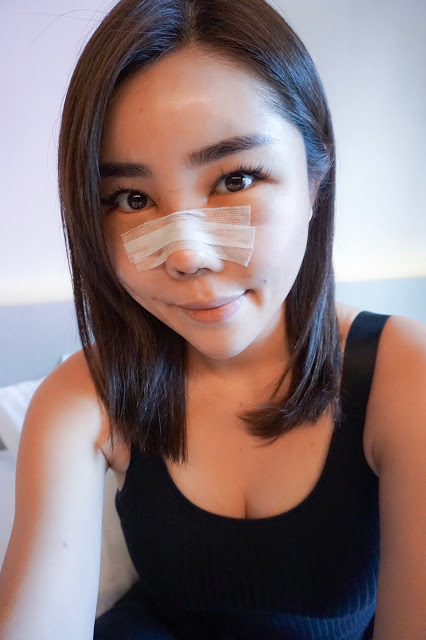 I'm beginning to love how my nose is "evolving" each day. Dr Chuang mentioned that the nose is still swelling at its peak, and my tip will slowly go down further after a few more days. I'm also pleased that the fat-grafting on my face also seems to take some years off me .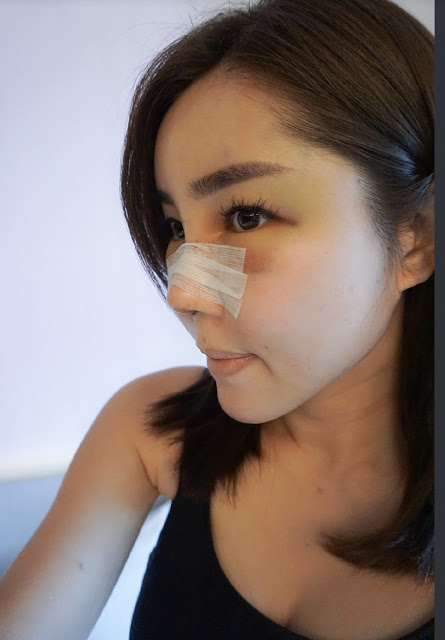 DAY FOUR
Bruises begin to appear on my thighs, where my fats are extracted from for the fat-transfer surgery. Wishclinic has their own in-house masseuse that is specialized in liposuction massage/lymphatic drainage massage, which is necessary to accelerate the recuperation period.
Even after the surgery, Wishclinic really places fast and effective recovery as their top priority for their patients. I was so well taken care by all the kind and friendly staffs there and truly touched by their concerns over me.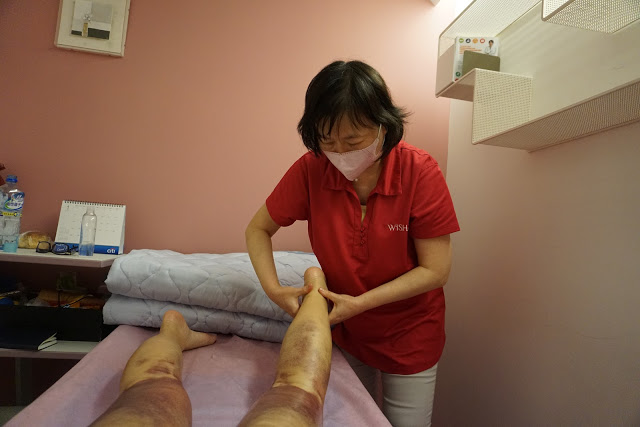 DAY FIVE
Every morning, the first thing I do when I wake up is to run to the mirror to examine my nose and check on my swelling. I love how my face fat grafting is settling nicely and getting more natural and not so "Chucky's bride" feel anymore.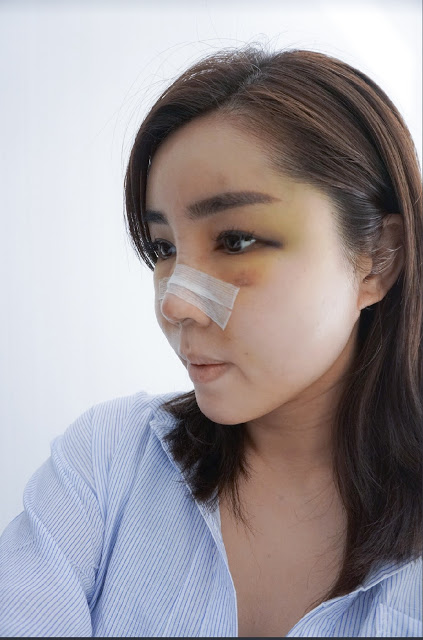 DAY SEVEN
Today is my last day in Taipei and I'm ready to remove my stitches and head back to my sunny island, Singapore. My bruises are turning yellowish, which also means they are already in the process of healing. I just need a little under eye concealer to cover them up nicely. On the 7th day is also when I begin to fall in love with my new nose! The bridge and tip are falling in place nicely to my expectation. Dr Chuang mentioned that it will become more natural and settles even more nicely on my face gradually.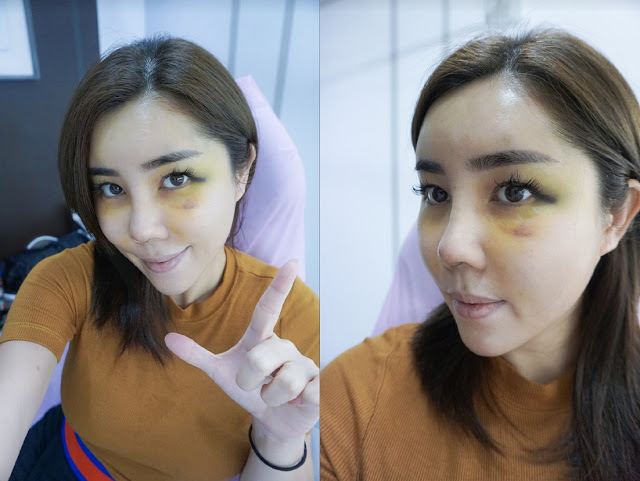 Saying goodbye to WishClinic. Having said so much about Dr Chuang, this is me giving him one final thank-you hug before I fly back.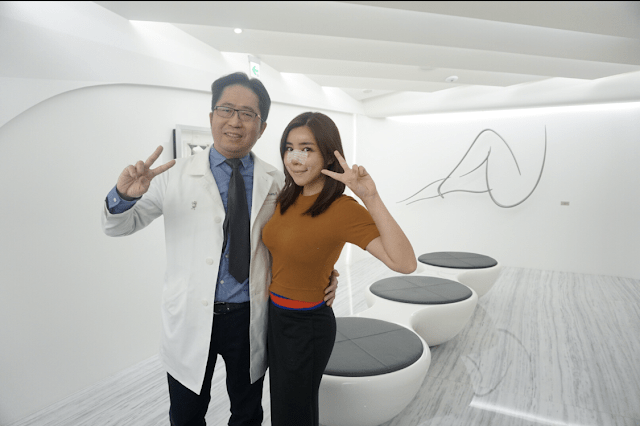 To summarize, I had a great experience with WishClinic Taipei as everything had gone very smoothly from the day I arrived at the clinic, to my surgery and to my recovery period in Taipei. Dr Chuang is like a fathery figure; very kind, jovial and supportive. His professionalism and confidence gave me so much assurance as a patient. I'm also very impressed by the post-surgery care given by all the pretty staffs of WishClinic, especially one particular nurse by the name of Ivy ( the one in purple). This sweet lady showered me with lots of care, guidance and support, and also boosting up my morale throughout my recovery period in Taipei. Really appreciate her for being there for me.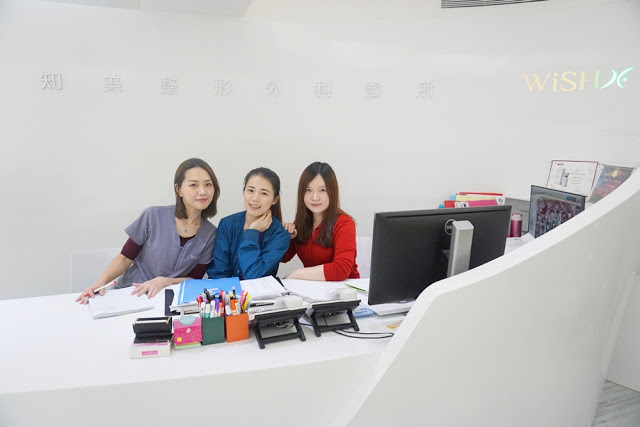 If you like more information about WishClinic Taipei , do visit its website or email your pictures over for a free consultation.
Official website: http://wishclinic.com.tw/
Facebook: https://www.facebook.com/wishclinictaipei/timeline
Lastly I shall end this post with one more photo taken two weeks after my surgery.
I still fcking love my nose and face fat-grafting result. After the fat-transfer to my boobs, I love how the new shape fits nicely in my lingerie or bikini.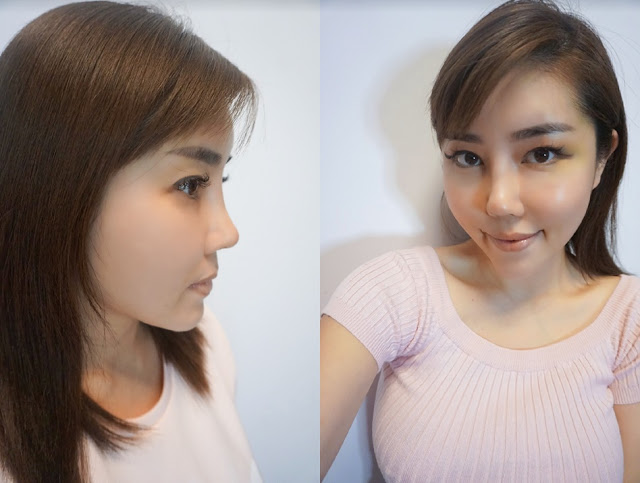 However this is NOT the final stage yet. Everything will continue to swell down and becomes more "in place" as the days and weeks go by.
I'll be writing another part 2 of this post in another 2-3 months time to show and review the final result.
For more of my daily updates, do follow me on my instagram for more photos
www.instagram.com/adelinebabysuns
Source: Adeline Babysuns via adelinebabysuns.blogspot.tw